Swift Electrical will inspect & test all compliance areas in accordance with the relevant Australian & New Zealand Electrical Standards and in conjunction with State based legislation.
We provide customers with a full report containing data records of all tested appliances.  Listed within the report is the location, applicant name, whether testing passed or failed, description of faults found and any repairs made.  These details are all required for auditing purposes.
There are six key areas of compliance that Swift Electrical can assist your organisation with:
Appliance Testing and Tagging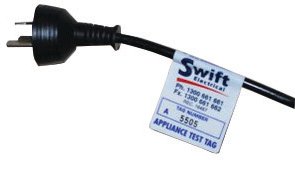 The Australian & New Zealand Electrical Safety Standard clearly outlines the requirements for organisations to fulfill their obligations to client and staff safety. Regular appliance testing and tagging of electrical devices is an essential part of this obligation.
What is to be tested?
Electrical appliances that plug into a 240v outlet, this includes extension leads and power packs.
How often should appliances be tested?
This varies depending on what type of environment and/or equipment is being tested.  The Australian Standard sets out the minimum recommended periodic frequency of testing.  This can range from three monthly, six monthly, yearly and five yearly.
What tests are necessary?
Visual Inspection
Earth Continuity Test
Insulation Test
Why should I use a licensed electrician to carry out appliance testing & tagging?
While many companies offer appliance testing and tagging services, the use of compliancy technicians (who are not licensed electricians) can pose risks to your organisation. Compliancy technicians are not licensed to carry out repair works where faults are identified and are not required to carry professional indemnity insurance. Swift Electrical will complete appliance testing with the added assurance that the work is being carried out by a qualified 'A' Grade Electrician. Testing with Swift Electrical also come with the assurance of a Certificate of Electrical Safety.
Don't' Risk It only use a Licenced Electrician
| COMPETENCY | ELECTRICIAN | COMPLIANCY TECHNICIAN |
| --- | --- | --- |
| Test & Tag electrical appliances | | |
| Qualified to make repairs on appliances | | |
| Qualified to address electrical installation issues | | |
| Qualified to give recommendations on electrical hazards | | |
| Qualified to do ALL electrical work | | |
| Required to have Public Liability Insurance | | |
| Safety Certificate issued | | |
Residual Current Devices
Often called safety switches, residual current devices (RCD) are a means of providing protection against electrocution and reducing the risk of fires caused by electrical faults.
While fuses and circuit breakers provide protection against short- circuits and current power surges, they do not adequately protect against current flowing through the human body. RCDs detect current imbalance and by cutting the flow almost instantaneously, prevent serious injury and death.
Electrical hazards are often hidden and can be difficult to identify, such as a small hole in an extension lead or a power board damaged internally. Electrical accidents can occur in an instant.
RCDs are the only device that can effectively protect staff and clients from these hidden dangers and provide your organisation with a level of risk mitigation.
Installing RCDs and testing them regularly is a small investment in money and time when you consider the safety benefits.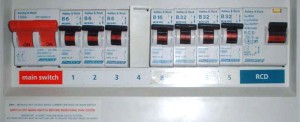 How often should RCD be tested?
Australian Electrical Standards outline that RCD testing is to be done with a digital tester every two years, additional testing is required to be performed on switchboards every six months. Both tests are vital to ensuring that all power points are operating the RCD switches to the Australian Standard.
Please note:  Under the model WHS Regulations, the installation and testing of RCD's will become mandatory for all circuits protecting items in a hostile environment effective January 2012. 
Exiting & Emergency Light Testing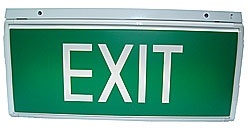 It is imperative your emergency and exit lighting systems are functioning correctly in case people need to evacuate an area. Scheduled testing will provide security and confidence in your emergency systems and is an integral element of Occupational Health and Safety.
Is Exit and Emergency Light Testing Compulsory?
The Work Safe Branch of the Victorian Work Cover Authority (VWA) advises that testing in accordance with the Australian Standard ASNZ 2292.3 is the minimum requirement to fulfil the care obligations specified in the Victorian OH&S acts.
What tests and data are necessary, as specified in ASNZ 2292.3?
Simulate power failure for 90 minutes
Clean each diffuser
Replace lamps that are not working or are dull
Inspect printed circuit boards every second six months on mounted exits
The information is then recorded in a data folder, which is kept at your workplace
How often should systems be tested?
Tests are performed every six months.
Microwave Testing
Is Microwave Testing Compulsory?
The Work Safe branch of the Victorian Work Cover Authority (VWA) advises that testing in accordance with the Australian Standard ASNZ 3350.2.25 is the minimum requirement to fulfil the care obligations specified in the Victorian OH&S acts.
What is to be tested?
All microwave ovens throughout the premises. Radiation leakage testing is the most practical and accurate way for your organisation to ensure that the radiation levels being emitted from its microwave ovens are within Radiation Health Committee Limits and Australian / New Zealand Standards.
How often should appliances be tested?
Tests and checks are performed every 12 months.
What tests and data are necessary?
Radiation Leakage Testing – Testing of the unit involves measurement of the radiation levels around the oven to ensure they are below the limits set by The Radiation Health Committee. Readings are taken from the door, door seals, display unit, air vents and top of the unit. Small leakage detectors made for domestic usage are not able to be calibrated and cannot be relied upon to give an accurate reading
Power Output Reading – This test involves the testing of the wattage of the oven, which can indicate the efficiency of the appliance under normal circumstances.
Physical Damage Inspection – The various components of the microwave oven are inspected for damage to ensure correct functioning and safety. A detailed physical condition report is provided.
If the microwave is leaking above the maximum level of emissions as set by The Radiation Health Committee, we will recommend that unit be repaired or replaced.
Smoke Alarms
Only working smoke alarms save lives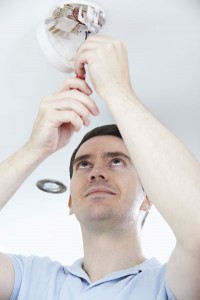 In most states across Australia smoke alarms complying with Australian Standards must be fitted in all rental properties and in accordance with the Building Code of Australia.
In order to avoid being charged for false alarms businesses & homeowners need to be vigilant with the assessment, maintenance, and management of smoke detector systems
Why should I have a smoke alarm?
If you don't have a working smoke alarm installed in your home, and a fire occurs:
You are 57 per cent more likely to suffer property loss and damage
You are 26 per cent more likely to suffer serious injuries
You are four times more likely to die
When you're asleep you lose your sense of smell. A smoke alarm is your electronic nose. It will alert you if there is smoke from a fire. A small fire can grow to involve an entire room in two to three minutes. A smoke alarm provides early warning and time to escape.
Smoke alarms are compulsory in every home.
All smoke alarms:
Must contain a battery
Need to be tested regularly
Need to be replaced after 10 years
Lighting
Proper lighting is essential to a happy and healthy environment. The quality, quantity and intensity of lighting have a significant impact on creating an enjoyable, safe and productive space. Appropriate lighting can reduce fatigue, encourage concentration and improve awareness. It is also essential to a comforting and relaxing atmosphere.
The market is also flooded with cheap (and dangerous) imported light fittings. Assessment of lighting systems by qualified electricians will ensure the light fittings in use at your facility are safe and compliant.
Swift Electrical has a sound understanding of lighting systems and we stay aware of all important technological advancements. We also pride ourselves on our close relationships with clients, which enables us to ensure lighting compliance is meet within each of their specific quality frameworks.